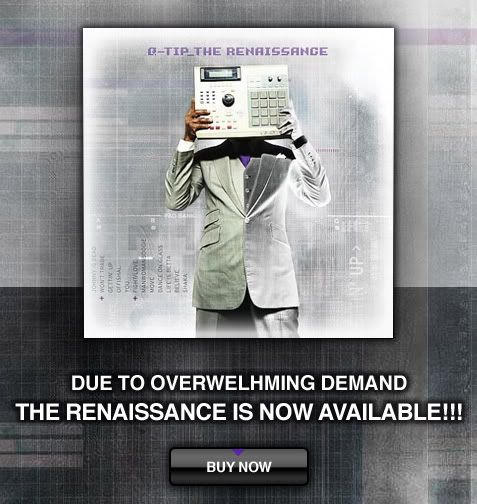 NOVEMBER 4TH WAS MY FAVORITE DAY OF 2008!
Not only does Barack Obama get elected for President of my United States of America, but Q-Tip has graced us with some of his genius.
Jonathan Davis aka: Kamall Fareed aka Q-Tip AKA THE ABSTRACT: Although this is his "sophmore" solo joint, this is actually the 4th solo album in 9 years, because 2 of these were never released by his label due to rejection ("Open" & "Kamaal The Abstract"), BUT I feel as though The Renaissance was right on time. This album was his first for his new label Universal Motown.
In the 90s, he helped gear Hip-Hop in a new direction that embraced the smoothness of jazz and a wider musical pallet with A Tribe Called (Me). Which influenced the modern day Hipsters, such as Kanye. And I am more than impressed to see Q return in the midst of another phase of music (that I believe is being lead by such artists like Mr. Williams, Mr. Fiasco, & "Mr. West! Mr. West! By himself, he's so impressed. You got D'z muhfucka! D'z!! Rosie Perez!"), and again, leave his footprint on Hip-Hop's time line.
The Renaissance features artists such as Amanda Diva, Raphael Saadiq, Norah (MUHFUCKIN) Jones, & D'Angelo. 3 or which, I am a Huge fan of. Raphael, Norah, & D'Angelo are all individually melodically cool as shit. The funksters came through with their pixy sticks and added their own lil flavor to the tracks they're on. I wasn't formerly familiar with Ms. Diva, but I like her style, even though her voice reminds me of someone…

When doing some early track searching for The Renaissance, I was fooled into thinking the album was called Live @ The Renaissance. This may be a real album name overseas, because it has a 10 songs that were not listed on The Renaissance that was released in the states on the 4th. Perhaps there will be a deluxe edition. Cross your fingers boys and girls.
<

DOWNLOADS

>
Gettin Up • B+

We Fight/We Love [Feat. Raphael Saadiq] • B-

Life Is Better [Feat. Norah Jones] • C+

Believe

(Feat. D'Angelo)

• B-

Good Thang • B

Tambourine (Bonus Track) • B

Getting Up [RMX]

(Feat. Camp Lo)

(Bonus Track) • B+

Where Do You Go (Bonus Track) • B

Say Something For Me (Bonus Track) • A-

Fever (Bonus Track) • B-

That's Sexy (Feat. Andre 3000) (Bonus Track) • B

*Posted preferred songs from the album
**All Bonus Tracks found on "Live @ The Renaissance"