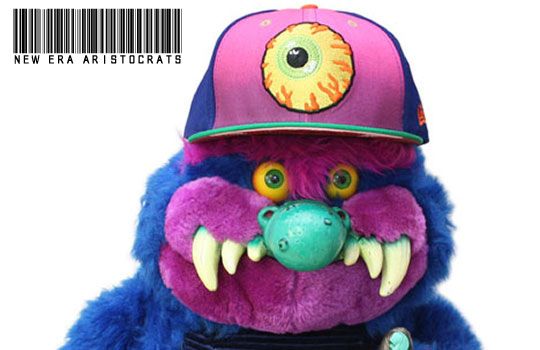 Holiday season is upon us already! Both retailers and labels are gearing up for Holiday 2008 with distinctive and special collection. Though usually consider as a capsule collection, some, like Mishka, have forgo that concept and launched a full range collection instead.
Named "Exotica", the Mishka Holiday 2008 Lookbook previews a collection filled with jackets, such as the popular Zeitgeist M-65 Jacket, Deather Adders Varsity Jacket, and Corduroy Coaches Jacket. Other styles in the collection including Keep Watch Sweater, imprinted with Mishka's signature eyeball graphic, 100% cotton Green River Flannel Shirt, in addition to the countless graphic scarfs, gloves, New Era caps and other accessories. All are due to release in the coming weeks at Mishka retailers.
Here's the first look at the Mishka NYC Holiday 2008 collection. Mishka presents a strong collection that mixes well thought out cut-and-sew with their iconic graphics. The cap line-up is really strong as well, consisting of your usual New Era caps with a twist, but also some interesting specials. Their color selection surpasses the uniqueness of any other cap designer that I've come across.
I even heard a rumor, that turned out to be true, that on Election Day, they had a 22% off discount going on, if you entered OBAMA in the promo section. NOW HOW YA LUH DAT!?
Obama's already saving us money!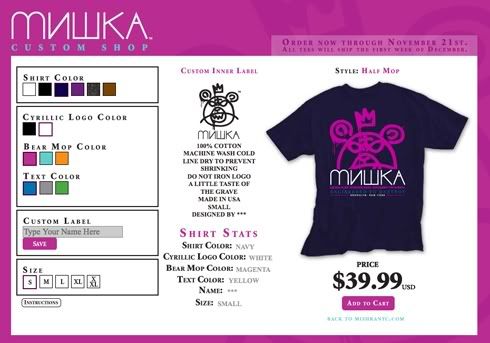 The popular "design it yourself" project from Mishka, the Mishka Custom Shop, is back. The project allows shoppers to craft their very own Mishka tee, this time being the signature Mishka Half Mop T-Shirt. With 4 major design elements, a slew of color options, and a customized interior label function, shoppers could create about 108 different design combination on their t-shirt. The Mishka Custom Shop will be open from now till Friday, November 21st. All orders will begin to ship starting the first week of December.