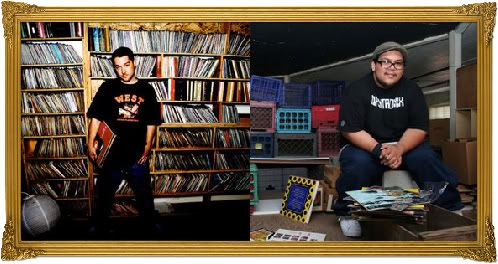 Sometimes I'll be listening to different "mix"tapes, and they actually do a lil scratchin or some nice blends, and I THINK to myself.. "I could do that!" But after listening to THIS mixtape done by the FINGERBANGERZ clique I said to myself, "I WANT TO DO THAT!"
When they aren't touring around with the Jabbawockeez, tag teaming with a guy named Z-Trip, or yukin' it up with Carlos Mencia the FINGERBANGERZ are holding down San Jose and the Bay all-day and they make the most noise at their signature bi-monthly party MUSIC MACHINE!
With 10+ years in the DJ/production game, these dudes are as versatile as they come. From rocking house parties and high school dances in their teens, to battling in ITF, DMC, and rockin parties all around the continent in their 20s, they have been tested in the arena and they are taking names!
Fingerbangerz is a team of two DJs, and each DJ has his own style and approach to the crowd. If you're ever in San Jose on a 1st and 3rd Saturday of the month, it sounds like a nice lil attraction.