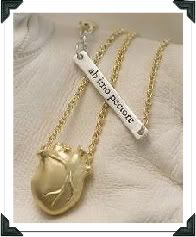 Bjorg
kicked off her venture into the fashion industry at the young age of 22 in her own studio and boutique, and was soon exhibiting in galleries in Norway, Germany, and Japan. After starting her business, she moved to India with her family, and there she discovered the vibrant colors and deviating styles of jewelery.
She has now moved backed to Norway to run her company from home.
Bjørg
's jewellery line is that kind of keepsake special jewellery that reflects nostalgia, tells a story or is just a token of affection, like the "From the Bottom of My Heart" piece.